Nicole Richie Dishes on Family's Halloween Plans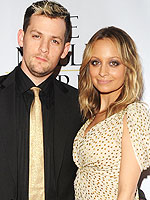 Sara De Boer/Startraks
This Halloween may be a battle of the wills between Nicole Richie and her 21-month-old daughter Harlow Winter Kate! While the mother-of-two — who will be dressing up as White Rabbit — envisioned her little girl in a coordinating ensemble, the determined toddler has other plans.
"I wanted Harlow to be something from Alice in Wonderland, but she really wants to be Tinkerbell," Nicole, 28, tells Extra.
Fortunately, her struggle with Harlow is easily balanced out by the family's newest member Sparrow James Midnight, who has little say in the matter at only 6 ½ weeks.
"I will wrap him up in toilet paper and make him a little mummy. He doesn't care."
And while Joel Madden is scheduled to be in Australia for work commitments during the fun-filled night, that hasn't stopped him from planning the perfect costumes for all — an idea that was quickly turned down by Nicole!
"I had an idea that I would be the beekeeper and they could be the bees," he says. "But that didn't appeal to Nicole too much."
Source: Extra
— Anya