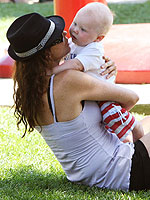 Fame
If Minnie Driver gets her way, son Henry Story, 13 months, won't be an only child for long. "Hell yeah," the 39-year-old actress tells OK! "I want more. I gotta work this year, and then I really want to have more kids."
Her enthusiasm hasn't been dampened by the "hardcore" first year of life with baby. "Making these really important choices on extraordinarily little amounts of sleep is the most challenging part," Minnie explains.
"Protecting your newborn baby, being able to feed them, being able to feed yourself, being able to keep the clothes clean, being able to keep the place clean … it's really challenging when you're sleeping for maybe two-hour increments and then waking up and breastfeeding. Well, I was."
Adding that "the first year is not for the faint of heart, but it's amazing," Minnie says that motherhood has taught her to be "incredibly present" because "these babies change on an hour-to-hour basis." Case in point? Henry's own growing list of milestones to date  — a list which now includes walking, talking, and snuggling with dog Bubba! Calling her son "a little piece of heaven," Minnie shares,
"Mama was his first word, Dada, then 'tar' — which is guitar, and Bubba, which is the dog. And now he blows kisses at the ladies in the supermarket. He's a big flirt. Big blue eyes, big white blond head of hair. He's very handsome."
Minnie's new film Motherhood is in theaters now.
Source: OK!
– Missy