Jodie Sweetin Admits Driving Drunk with Zoie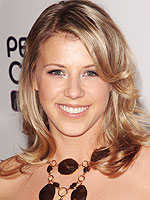 Landov
In an explosive new memoir, actress Jodie Sweetin opens up about her past drug abuse and how those addictions put not only her own life in jeopardy, but also the life of her 18-month-old-old daughter Zoie Laurelmae.
The 27-year-old former Full House star — who was adopted as a 9-month-old — points out in unSweetined that her birth mother was also an addict. "I would hear stories about my mom leaving me to go off and party," she writes. "And for years I was like, 'F–k her. How could somebody do that to their kid'?"
"When I started seeing my own addiction getting in the way of being a mom, I finally understood: If you're not in the right place to get sober, you're not ready to be a mom."
Jodie goes on to reveal that her "big rock bottom" took the form of driving drunk. "I had two glasses of wine and drove with [Zoie] in the car," she explains. "I not only put myself in danger, but also my daughter, who I loved more than anything. I felt terrible."
In December 2008, Jodie says she "got sober for good," but her relapse has cost her dearly. "I got a call that there was an emergency custody investigation because of my drinking," she notes before adding,
"From that day forward, I threw myself into going to AA and avoided people who do blow off their coffee tables. We're working on a custody agreement right now. But life is good. I'm happier than I can remember."
Zoie is Jodie's daughter with estranged husband Cody Herpin. unSweetined hits bookstores on November 3rd.
Source: US Weekly
— Missy