Exclusive: Niki Taylor Says Twins 'Are Great' With Ciel
The age difference between her 14-year-old identical twin sons Jake and Hunter and 7-month-old daughter Ciel might be sizable, but Niki Taylor tells the Celebrity Baby Blog it hasn't stopped the siblings from bonding. "The boys are great with their baby sister," she raves.
What's more, between Niki's husband Burney Lamar and the twins, baby girl will always have plenty of protectors. Niki quips,
"Ciel's got three dads. She's covered. She's not going to be able to get away with anything!"
There has been "a big difference" for the 34-year-old model between Ciel's birth and when she welcomed the twins. Citing her own age, Niki notes that she "grew up" with Jake and Hunter. "I just went through a lot of life lessons as a mom in raising them, and [now] I can enjoy it [more] because I don't have to be back to work, or be on a set somewhere," she explains.
Ciel is already "such a character" and hitting all her milestones. While not a fan of tummy time, she is rolling over, sitting up, and recently sprouted her first tooth! "Her dad and I both have really big teeth, so we feel bad," Niki jokes. "She's going to have a mouthful of really, really big teeth." Of motherhood, Niki adds,
"It's always an adventure and always something really fun going on."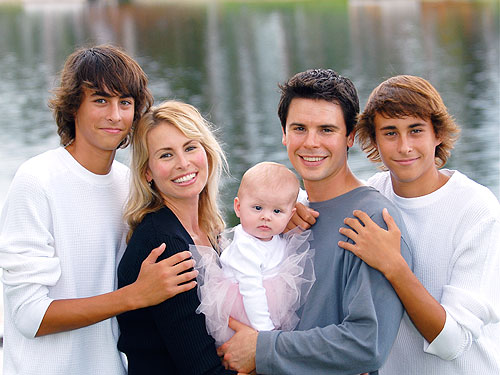 Courtesy Niki Taylor for use on CBB
Click below to read about Niki's thoughts about unmedicated births and to see another photo.
In New York City for the kickoff of National Teen Driver Safety Week, Niki — who nearly died in a 2001 auto wreck — said she left baby girl in good hands. "I am not freaked out about this trip because my husband is a hands-on dad, such a great daddy, so I'm fine," she insists.
Still, Niki admits that she is keeping tabs on Ciel from afar. "Teething and poops…that's all you talk about is poops and feeding time and what their schedule is and 'Did she get a nap?'" Niki points out,
"It's my first time being away from her. I have to make sure everything is [okay]."
It is Burney who also earns the credit for naming their daughter, having selected the moniker from a book of 10,000 baby names. "I said 'There you go, that's your job,'" Niki recalls. "[Ciel] is French for sky, and our last name is also French, so Ciel Lamar had a really beautiful ring to it."
High on the drama quotient, Niki agrees that her daughter's name has a movie star quality to it — or, perhaps more likely, that of a singer. The proud mom reports,
"She has a fantastic voice. Even when she cries, it's beautiful."
Having delivered each of her children vaginally, Niki says that Ciel's birth was "quite easy" even though — unlike with the twins — she was not permitted an epidural due to the placement of steel rods implanted in her back after her car accident. The experience was eye-opening, to say the least!
"I recommend every woman — if you're healthy, and you can do it without the epidural — to do it," Niki says, noting that she was "home by 2 o'clock the next day."
And on to the business at hand: Losing the "80 to 90 pounds" she gained during the pregnancy. "I fluctuate, I always go up and down," Niki says. "I love to eat, but I also love to work out."
To that end, she was able to reclaim her pre-baby body with a combination of jogging, walking, and a weekly hot yoga class; the benefits for the mom-of-three transcend the physical, however.
"You have to keep eating good — of course 80% or maybe 90% of it is what you put in your mouth — but just overall you're going to sleep better, your skin looks better, you feel better and you have a positive attitude if you exercise."
Jake and Hunter are Niki's children with ex-husband Matt Martinez.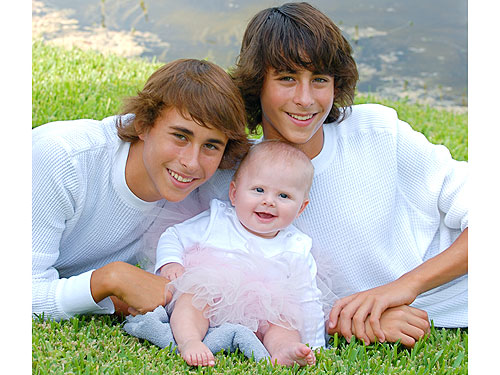 Courtesy Niki Taylor for use on CBB
— Missy with reporting by Caryn Midler

Click here for yesterday's cutie!