Alyson Hannigan: Satyana 'Makes My Heart So Full'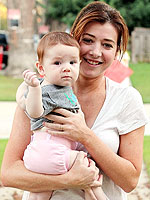 Gaz Shirley/Pacific Coast News
Her birth certificate may read Satyana, but during a humorous visit to The Ellen DeGeneres Show, Alyson Hannigan joked that for all intents and purposes, baby girl's name is actually Ellen DeGeneres!
After telling the host in February that she and husband Alexis Denisof were considering the name, Alyson laughed — after being confronted by Ellen, who greeted the actress with a cool "Hi liar" — that she kept true to her word. "We call her Ellen DeGeneres and [so do] all the friends and family," she explains.
"It's just for legal reasons that we were like, 'Oh, we shouldn't technically name her this,' but that's what everybody calls her."
Convincing Ellen that she would share her daughter's moniker was no sweat in comparison to keeping the sex of the baby under wraps! During Alyson's last appearance on the show, Ellen unsuccessfully attempted to squeeze the top secret information out of the expectant mama by having her choose between pink and blue onesies. "You were like, 'Ooo, which one do you want?' I of course wanted the pink one, but I couldn't tell you that!" says Alyson.
"I have never concentrated harder in my life than that last interview. The whole nine months of pregnancy with the pregnancy brain, it was all boiled down into that one interview to not let it slip. You were hard…I am still tired from that interview!"
Clearly elated with motherhood, Alyson feels she has found her niche. "She's always so happy and just smiling and she makes my heart so full," she says of Satyana. "I feel like every cell in my body woke up to love her." Calling parenthood "the best thing in the world," the How I Met Your Mother star is smitten with her daughter. "She's the best baby ever, like seriously," she raves.
And while she may be basking in the joys of motherhood, Alyson — who was an only child and "hated it" — admits she is not quite ready for a second baby. "I've always thought I want at least two, but now that I have her…I get why you just don't want to share anything, you just have the one," she muses.
That said, Alexis seems to have other plans in mind!
"A week after she was born, [he] was like, 'So hey, can we have another one?' I'm like, 'Excuse me! I can't even sit down right now, can you just wait a minute?!' Bad timing on his part, too soon."
Click below to read about what Satyana's Halloween costumes will be!
As for the upcoming Halloween holiday, Alyson and Satyana will be celebrating with multiple costume changes. "I've already got three costumes for her — a baby bunny, a squirrel, and then I'm having a kangaroo costume made for myself and…she's going to be the baby kangaroo," she shares.
A true "sucker for Halloween," Alyson is prepared to celebrate all week long. When Ellen inquired about the number of outfits, the actress replied, "Because there's other days of the week!"
Source: The Ellen DeGeneres Show
— Anya