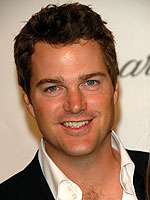 Stephen Shugerman/Getty
With nine children between them, Chris O'Donnell and LL Cool J have no shortage of stories to swap on the set of NCIS: Los Angeles, and the costars' camaraderie was apparent during a recent visit to On-Air with Ryan Seacrest.
"I always said I wanted five when I was younger," Chris — dad to Lily Anne, 10, Christopher 'Chip' Eugene, 9, Charles McHugh, 6, Finley, 3 ½, and Maeve Frances, 22 months — explains. "I didn't know what the hell I was talking about."
"Once you have a couple and you realize how hard it is…We were done at four and the fifth one was the only one we were surprised about."
His revelation prompted LL — himself dad to Najee, 19, Italia, 18, Samaria, 14, and Nina, 9 — to quip,
"I always said I wanted ten [children], and then I got 60% smarter."
Although the duo are clearly enjoying their roles on the show, the same cannot necessarily be said for Chris' wife Caroline Fentress and Lily — whom the 39-year-old actor jokingly called "superfans." For the series' premiere, Chris said he expected the couple would host friends but Caroline had other plans.
"She said, 'Uh, I'm taking Lily to American Idol,'" he recalled with a laugh. "It was literally the first night we were on, and my wife and my oldest child [did] not stay home and watch the show."
Source: On-Air with Ryan Seacrest
– Missy