Amy Poehler Can't Believe Her Son Is Turning 1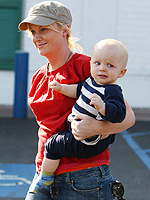 Xposure Photos
Halloween is a special time for Amy Poehler – and not because she's obsessed with witches or carving jack-o'-lanterns.
"As an adult living in New York City, Halloween is a little redundant," says the Parks and Recreation star. "For a long time, I got to wear a lot of wigs and dress up. I always wanted to take a break from that [because] I was never a very big Halloween person, but maybe that will change."
That's because this Halloween Amy, 38, has somebody else to dress up: Her son, Archibald 'Archie' William Emerson, will turn 1 on Sunday, October 25th.
"This year has been an outstanding year and really a thrilling one," she says. "It's gone by really, really fast and I can't believe he's 1."
"Children are amazing for so many reasons and one of them is that they kind of punctuate your life," Amy says of the milestone. "Often our lives go by so fast without enjoying the moment and being able to reflect. When you have a person living in your house that is growing next to you it's just amazing to watch and reflect the passage of time."
— Aaron Parsley