Melanie Chisholm Sings Scarlet's Praises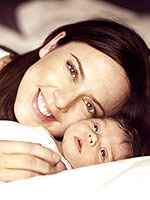 Melanie C./MySpace
In her first television interview since welcoming daughter Scarlet, 8 months, Spice Girl Melanie Chisholm agreed that motherhood is "everything that everybody says" it is, adding:
"It's wonderful, incredible, and very difficult."
With regard to the latter point, the 35-year-old songstress revealed that Scarlet is teething — but that is nothing compared to the "early days" postpartum. "It's just so exhausting," she laments. "Just really, really hard."
"It's a real shock to the system, and even though people try to prepare you…Friends who've had children and your parents … You don't know until it actually happens to you."
With that said, Melanie says that as Scarlet — whom she deems a "real character" — has gotten older, caring for her has gotten easier. "Now it's so rewarding," she reveals. "It's so much fun."
"We have our bedtime routine, we like reading our books…She's just stopped eating them so that's good."
Scarlett is Melanie's first child with partner Thomas Starr.
Source: GM.tv