Jane Seymour Recalls Scary First Few Months With Twin Sons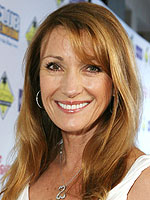 Alexandra Wyman/WireImage
In an expansive new interview with About.com, actress and author Jane Seymour dishes on the highs — and occasional lows — of being a mom to twins.
When in-vitro fertilization resulted in two miscarriages, Jane says that she and husband James Keach had "almost given up," but then a third pregnancy resulted in three embryos. One "never really formed," and the end result were twin boys John and Kristopher, now 13.
Born six weeks prematurely via emergency c-section after Jane developed pre-eclampsia, the babies weren't out of the woods yet.
"Johnny turned blue twice when we got home because we really wanted to come home soon and that was a big mistake," Jane recalls. "So then we had to take both of them back to the hospital and I had to stay with them overnight, a couple of nights, monitoring them for sucking, swallowing and breathing."
Breastfeeding was a challenge for mom, too. Noting that "the beauty of the human body is you have two feeding apparatus," Jane says that the boys "invariably … wanted to eat at the same time." As one would finish up the other would be readying to nurse.
"I was referred to as the 'Dairy Queen," Jane quips. "I was literally on tap all the time." When she found herself struggling to even eat enough food to sustain her milk supply, Jane supplemented with formula — to good results.
"[It] worked just perfectly for us. It was no problem with them adjusting to a combination. I always tell people, 'Don't feel you have to do one thing and not another.'"
Click below to read about why Jane was on 'pins and needles' during the twins' infancy.
Because she needed to return to the set of Dr. Quinn, Medicine Woman three weeks after delivering, and because the boys had unique health issues, Jane sought help at night. "I had someone helping me…so that if I could — if I had a chance — sleep even if it was for an hour and a half in increments," she explains. "I had somebody that could watch the children because they were both on heart monitors."
Indeed, Johnny and Kris needed round-the-clock observation for the first four months of their lives. "If they even wriggled, the heart monitor would go off and somebody would have to be right on top of them and immediately make sure that they were breathing and that they hadn't turned blue," Jane explains. "We literally were on pins and needles for a number of months when they were young."
As the boys grew older they not only grew stronger — they also grew closer. "They would love to sleep together in the same crib and then in the same bed," Jane shares. "In fact to this day, although now they are almost fourteen and they will fight, they only really have had their own bedrooms, separate bedrooms, in the last year."
Calling the act of parenting twins "a wonderful adventure," Jane notes that "even though they sometimes say that they hate each other, clearly they love one another."
"There is a bond that twins have that is unspoken and quite formidable."
Still, it's a bond that even Johnny and Kris need reminding of from time to time. "I keep telling the boys, 'You'll always have this unique connection that the rest of us don't have,'" Jane explains. "For the rest of your life."
"If it means you're doing a sport, you'll always know what the other one's about to do. And if it's something you're doing that's musical, you clearly know how to play together. And you also pretty much know how to make one another mad, how to make one another sad, and hopefully how to make one another happy."
In addition to the twins, Jane is mom to Katherine, 27, and Sean, 23, with ex-husband David Flynn.
Source: About.com
— Missy