Charlotte Church Says Ruby's Tantrums Lead to Fainting Spells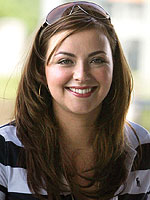 Matt Cardy/Getty
During a fundraising appearance at a new children's hospital in Wales earlier this week, songstress and television host Charlotte Church revealed that she is all-too familiar with the fears many parents face when it comes to the health of their children.
Although the condition is not life-threatening, Charlotte's 2-year-old daughter Ruby Megan suffers from breath-holding spells that have caused her to lose consciousness.
"Ruby does this thing when she holds her breath, especially when she is having a tantrum and wants her own way," Charlotte, 23, explains. "She will hold her breath until she passes out."
"The first time it happened it was absolutely horrendous. I took her to hospital and they said some children do this until the age of about three when they grow out of it."
Doctors told Charlotte and her boyfriend Gavin Henson that Ruby can be brought to by spraying her face with water, or by blowing on her face. "Every time it's happened she's been fine afterwards," Charlotte points out, "but it causes Gavin and I a lot of worry."
The episodes can be brought on whenever Ruby is displeased, Charlotte said, including "if she sees something she wants like sweets or chocolates." It's presented quite a problem for the couple, who now must weigh the pros and cons of giving in to their daughter. "If I stop her [from getting what she wants] it risks her having one of these breathing attacks," Charlotte explains.
According to the UK newspaper Telegraph, medical experts estimate that about five percent of all children endure spells like Ruby, but it is very rare for a child to lose consciousness as a result.
As for Ruby's little brother Dexter Lloyd, 9 months, Charlotte says that all is well. "[He] is as strong as a silverback gorilla," she jokes.
Source: Telegraph
— Missy