Ana Ortiz: Breastfeeding Is 'Nature's Lipo'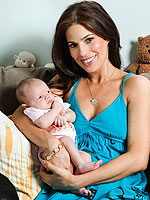 Erin Patrice O'Brien for PEOPLE for use on CBB
Months before welcoming her first child, Ana Ortiz was keeping her pregnancy pounds in check; The Ugly Betty actress was hopeful her commitment to staying in shape would help make her bounce back after baby that much easier. "I attribute it to working out while I was pregnant," the new mama tells That's Fit about her postpartum weightloss.
Burning calories by nursing her daughter Paloma Louise, 4 months next week, has also proven beneficial.
"They do say breastfeeding is nature's lipo."
That said, nursing — and her age! — have put a limit on 38-year-old Ana's voracious appetite. "The older I got it's like, 'Oh, I can't have pizza at two in the morning?!'" she jokes. "Because I'm breastfeeding I have to have more fat, so I've been on a quest for healthy fats — avocados, fish, nuts. But I have my weaknesses — red wine is a big weakness."
In addition to walking in lieu of driving, the New Yorker admits much of her efforts have been made possible due to Le Maison, a fitness center that concentrates on body weight and rubber band exercises. And while she depended on a trainer while pregnant in order to safely monitor her routines, Ana has since gone solo — calling herself "too cheap" to hire one — and now stays fit through the art of dance. "I've always been a physical person, but I get bored easily, so dancing is a wonderful workout," she says.
While staying active has always been a part of Ana's routine, she admits becoming a mother has made good health a priority.
"I think it's really important for my daughter to see her parents being physically fit and for that to be a part of her life," she explains.
"The examples we set for her will stay with her the rest of her life."
Paloma is the first child for Ana and her husband Noah Lebenzon.
Source: That's Fit
— Anya