Rachel Griffiths Recalls Paparazzi 'Trauma' After Birth of Daughter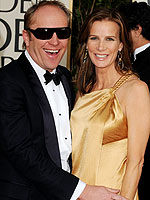 Steve Granitz/WireImage
Australian-born actress Rachel Griffiths is known for breaking the mold when it comes to naming her children, but she also broke with tradition somewhat with daughter Clementine Grace, 4 months.
"Adelaide is the capital of South Australia," she explains of daughter Adelaide Rose, 4, while son Banjo Patrick, 5 ½, is named after "our national poet." The 40-year-old Brothers & Sisters star notes during a recent appearance on The Jay Leno Show,
"Clementine is my first American name."
Rachel went on to share that she was "traumatized" by the paparazzi after Adelaide's birth, when she was snapped leaving the hospital. "They wheel you out — and no woman should be photographed for weeks, it's not right, it's inhumane — and all these paparazzi jump out of the carpark," she recalls. "There I am holding my newborn baby, in my dressing gown, with my hair unwashed from the birth…It was awful."
Rachel attempted to avoid such a scenario with Clementine by checking into the hospital under the assumed name of Rebecca Hamilton. Her plans to "just be in and out" were dashed, however, when Clementine suffered an unspecified complication after delivery. "Can I just thank everybody at Cedars [Sinai Medical Center] for saving my baby's life?" Rachel said.
By day four of the hospital stay, the name switch had become "a bit of a joke," however.
"I have all these doctors saying, 'So Rebecca, Clementine's doing well…' Finally I said to this nurse, 'Look, you can call me Rachel' and she just looked at me so I said, 'Or Ms. Griffiths…' and she just said, 'Why?' She had no idea. She was like, 'Why would you want to be called Rachel Griffiths, you're Rebecca Hamilton?' So I just let it go then."
Having since returned to the set of her hit ABC show, Rachel praised the network for being so accommodating; She enjoys a nursery at work, and hasn't had to wean Clementine as a result.
"I love ABC, they really look out for breastfeeding mothers," Rachel raves. "We have I think eight nursing and pumping mothers on our show this season so there are pump stations everywhere."
Banjo, Adelaide and Clementine are Rachel's children with husband Andrew Taylor.
Source: The Jay Leno Show
— Missy