NutriFit Mighty Mixes: Healthy Snacks-to-Go for the Whole Family!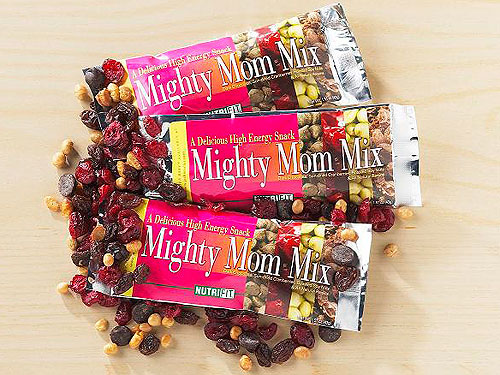 NutriFit
When it comes to snacking, Nutrition expert and NutriFit founder Jackie Keller likes to keep it all in the family! Her Mighty Mix line of delicious snack medleys were created to provide a healthy source of energy based on the different nutritional demands of men, women and children.
The Mighty Mom Mix is perfect for moms on-the-go. Celeb mommies like Reese Witherspoon, Angelina Jolie and Uma Thurman love to snack on its guilt-free combo of dark chocolate (it helps lower blood pressure), roasted soy nuts, sun-dried cranberries and all natural raisins while out and about with their kids.
Have a hard time getting your kids to eat? Give them the Mighty Munchy Mix. It contains natural dried pineapple (good source of Vitamin C), cranberries (they fight infections), dark chocolate chips (provides necessary flavonids and polyphenols), almonds (for Vitamin E, protein and fiber) and corn nuts (for fiber and folate). Your little ones will love the taste while enjoying great nutritional benefits.
So go ahead and give them a try! There's even a version for dads — the Mighty Man Mix. They retail for $19.95 per dozen.