Minnie Driver on Motherhood: 'It Feels Like Christmas'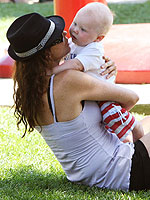 Fame
When it comes to the emotions surrounding motherhood "you can't know until you have it," according to Minnie Driver. "It just blows your mind," she says in a new interview with CinemaBlend.com. "It's so extraordinary."
The 39-year-old actress admits that the "unquantifiable love" she feels for son Henry Story, 13 months, did come as somewhat of a surprise. "It just takes my breath away," Minnie says.
"My son's face in the morning, or if I hear him 'Mama, Mama, Mama' and I go and he's just sitting there in his crib, in the dark cause, you know, often he wakes up early it's still dark outside. When I turn the lights on he's like 'Mama!' And it's just, it feels like Christmas."
Her enthusiasm about making movies while pregnant with Henry is a different story entirely! She filmed Motherhood at 7 ½ months along in a New York City heatwave, a decision she says in retrospect was not the wisest;  When the shoot ran longer than expected, Minnie recalls making a tearful phone call to her own mom.
"I was like, 'I just [gasp] want to go home and iron [gasp] onesies. I just want to do laundry Mom,'" she explains. "She was laughing and she goes 'You'll have plenty of time to do laundry, love. Don't worry. There's loads coming.'"
Although she "did want to be nesting," Minnie says she harbors no regrets about making the movie.
"I'm glad I did it. I just think, I said before, when you're — the greater part, in fact, the whole of my adult working life has been chronicled on film and this, I didn't want this part to be an exception. I'm really glad that I made it selfishly just to have him, you know, for my own history."
When asked whether she'd be receptive to Henry someday pursuing a similar career path, Minnie laughs. "I would say good luck!"
"Good luck and I'll always cook for you when you're totally broke."
Motherhood is in select cities Friday.
Source: CinemaBlend
— Missy