Madonna: 'Life Is an Adjustment'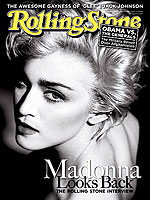 Courtesy Rolling Stone
Working out a custody arrangement in the wake of a divorce is difficult, but even more so when parents live on different continents. Madonna notes as much in a recent interview with Rolling Stone, conceding that things are "different" now for sons Rocco John, 9, and David Banda, 4 — who split their time between mom's home and dad Guy Ritchie's house in England — and daughters Lourdes Maria, 13, and Mercy James, 3 ½, who are with the 51-year-old pop icon in New York City. She adds,
"Life is an adjustment. My sons aren't with me right now, they're with their father, and I'm not very comfortable with the idea of my children not living together. There are pros and cons, but I feel good now."
Calling David her "biggest fan," Madonna reveals that his devotion is on full display during her current world tour. "Everybody says that when he watches [my concerts] he stays frozen from beginning to end, and he studies everything, and he knows every dance step." While she feels that David is "not jaded" like Lourdes and Rocco, Madonna's older children are still fans of her music.
"Lourdes likes all my old songs. She's really into the Eighties, from the way she dresses to the music she listens to. Rocco likes anything that I did with Timbaland. Basically, he's a hip-hop and electronica boy."
Quipping that her house "is like a Benetton ad," Madonna says she "wouldn't have it any other way." Noting that "the more diverse the world you live in, the more open you are," adopting Mercy and David from Africa has opened her eyes and provided "a new perspective on the world."
"I have French nannies, my security guards are Israeli, I have assistants from Argentina and Puerto Rico as well as a Japanese assistant and chef, and another chef from Italy. It's wonderful. I love it… My life is a cacophony of different languages and music."
Source: Rolling Stone
— Missy