Laila Ali 'Loving Every Minute' of Motherhood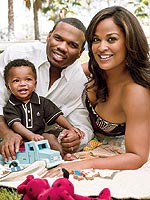 Brian Doben for PEOPLE for use on CBB
When it comes to family planning, Laila Ali has a definite idea of when she'd like to make son Curtis Muhammad Conway Jr., 14 months next week, a big brother — and CJ has a big part in the equation as well.
"I'm going to have another [baby] but I'm going to have to wait until he is potty trained, so he can hand me a Pamper for the baby," she quipped to Celebrity Baby Blog during The Noble Awards at the Beverly Hilton Hotel on Oct. 18.
Laila went on to share that her own dad Muhammad Ali hasn't dispensed much parenting advice — "I'm sure he'd do it over if he could," she said — but from the sound of things, she doesn't need any. Says Laila of CJ,
"Oh my God, he's walking and running and acting wild. Loving it, loving every minute of it!"
CJ is Laila's first child with husband Curtis Conway.
— Missy with reporting by Michelle Ward