Celebrity Makeup Artist Bobbi Brown (and Her Father) Debut Inspirational Kids Book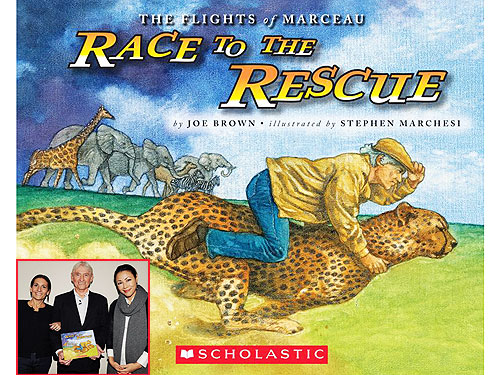 Scholastic, Scott Gries/PictureGroup
Proving that it's never too late to make a dream come true, Joe Brown — dad to famed makeup artist Bobbi Brown — has just published his first children's book, at the age of 74.
Having spent his entire adult life as an attorney, Joe might be new to the genre, but he's been telling the tale of Marceau for decades. Now Marceau — a New York City cab driver who treats passengers to fun-filled tales of adventure — has come to life in The Flights of Marceau: Race to the Rescue ($9).
Published by Scholastic and illustrated by Stephen Marchesi, the book is familiar territory for Bobbi as well. "I grew up listening to these wonderful bedtime stories that my father had written," she explains. "I am very proud of my father and his new book, and am so happy to celebrate him and his work."
In The Flights of Marceau: Race to the Rescue, Marceau leaps into action when a collection of zoo animals are left stranded by a hurricane. Together, he and the animals work together to save the day. The book — first in a planned series — also contains rhyming text and a glossary. To purchase, click here.
— Missy