Taye Diggs Ponders the Placenta Pill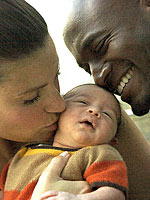 AP/Courtesy of Idina Menzel and Taye Diggs
While many parents-to-be spend months preparing for baby's arrival by attending a long list of recommended classes — Taye Diggs and his wife Idina Menzel included — the Private Practice actor admits he still wasn't exactly ready when the big day arrived!
"It got rough at moments because you have no idea [about] the sounds your wife is going to make," Taye explains during a Thursday night visit to Jimmy Kimmel Live.
"There were moments when I had to excuse myself and just take a deep breath, but at the end of the day I was there and I was a cheerleader and we worked it out."
Fortunately, when Taye found himself needing a minute to recoup, Idina was able to rely heavily on a doula. "She was just there for Idina," he says. Having coached the couple in a series of classes prior to delivery day, Taye admits the doula was happy to offer a few last-minute reminders during the labor.
"She basically told us everything that was going to happen before it was going to happen because regardless of all the books that you read, for me personally, when I'm in the moment, I forgot everything."
Once Walker Nathaniel was safely delivered and dad had cut the cord, the couple's attention was redirected toward baby boy's placenta — the doula inquired as to whether the new parents planned on taking advantage of what it had to offer.
"She asked us if we wanted the placenta afterwards, because there are crazy nutrients," Taye recalls. "During one of the classes, very casually, she said, 'We can make the placenta into tablets you can take each day.' And I look at my wife, 'Are you crazy?'"
For Idina — who showed interest in the pills and had them made — the unique opportunity was no laughing matter, leaving Taye to ponder the placenta's final fate.
"My wife was serious, she wanted to be prepared on every front. I've been afraid to ask her [if she's been taking them]."
As for baby boy's name, Taye reveals the moniker is in honor of author Alice Walker and not Walker, Texas Ranger, before adding that the name isn't likely to become a problem in the school yard. "Me and my wife figured out that by the time he was old enough for kids to make fun — he'd be like 5, 6, maybe 7 or 8 — no one's going to know who Walker, Texas Ranger is," he states.
And while the couple may have easily agreed upon their son's name, the upcoming Halloween holiday has left Idina and Walker's nanny at odds with Taye!
"I have concerns because he's a little dude and I don't want him to be dressed up like a little sunflower. I want him to be as masculine as he can be at [seven] weeks."
Source: Jimmy Kimmel Live
— Anya
Click below to watch the video!