Steal That Style: These Boots Are Made For Walking!
Boot scootin' fun! Nothing says fall like a new pair of warm, cozy suede boots perfect for the needs of a toddler. With the trend of mid-calf boots back for another season, the children's clothing market is full of fashion-forward designs, ranging from simple yet stylish to chic yet comfortable.
For girls, the look of the suede boot is often paired with a knee-length dress — much like Luisa Danbi Grier wore during her recent visit to Mr. Bones Pumpkin Patch — matched with tights or leggings. For little girls and boys on the go, parents can tuck skinny jeans into the boots to achieve a sophisticated sense of style. Of course, for kids simply looking for comfort — among them James Wilkie Broderick — a pair of sweat pants matched with the boots also works just as well!
Out with his mom Gwen Stefani and dad Gavin Rossdale, a sassy Kingston James McGregor showed off his pair of Minnetonka's 3-Layer Fringe Boot ($60). We are loving the fringed detail! A little rain didn't stop Ella Rae and her mom Rhea Durham from taking a stroll in New York City earlier this month. Her feet were certainly kept warm and dry with her pair of brown suede boots. Keeping casual during her family flight with dad Jason Priestley and mom Naomi Lowde-Priestley, little Ava Veronica sported a pair of fur-topped boots at the airport.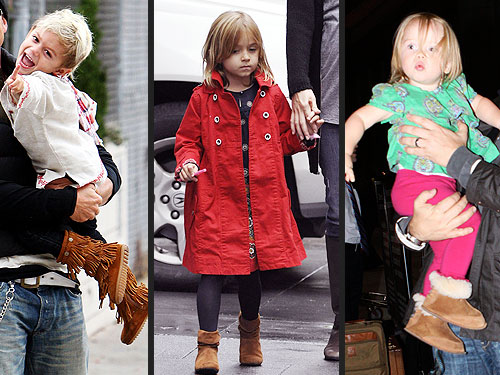 Max Butterworth/ Louise Barnsley/ Bret Thompsett/Pacific Coast News; Elder Ordonez/INF; John K / Todd G / Splash News Online
Steal That Style: These Boots Are Made For Walking with the boots below!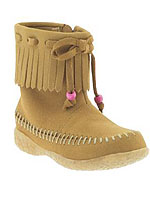 Nina Teepee Fringe Bootie
Breaking Bank: Fringe flair! With an added touch of style in the form of a fringed collar around baby girl's calf — topped with a simple yet trendy beaded bow — Nina Teepee Fringe Bootie ($65) delivers on the company's promise that little girls will go ga-ga over their designs! The cushioned footbed and gripped rubber sole provide stability during playground play.
A longtime leading brand among the market's top boots, Timberland does not disappoint with their Timberland Hedge Hop Chelsea Boot ($50). Made up of extra soft premium leather, the kid-friendly style includes a side zipper and a deep elastic side panel, making the task of putting on boots that much easier. The company has also taken into consideration the phenomenon of a growing child's feet: check out their special 'Does It Fit' sockliner which allows parents to check the boot size over the months!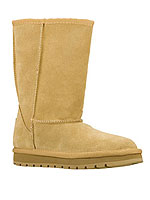 SKECHERS Kids Blizzard
Not Pinching Pennies: No struggling with zippers here — all the SKECHERS Kids Blizzard in Primate ($48) need is a sturdy pair of hands to pull on these fashion-friendly boots! The suede fabric — adorned with stitched seams — measures up to the child's mid-calf and includes a faux-fur inner lining for those chilly fall nights.
Just like mama's! Sophisticated and chic, Stride Rite Erin ($49) boots make such a splash in the kid-friendly boot market that moms may find themselves wishing for a pair to call their own. The lightweight sole allows extra flexibility for on-the-go little girls, while the accessible side zipper makes taking the boots off a breeze.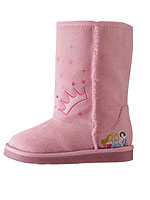 Payless Toddler Disney Princess Boot
Bargain Buying: Perfect for your own little princess, we love Payless Toddler Disney Princess Boot ($30). The faux-fur suede boots offer a wide toe for extra wiggle room, a kid-friendly side zipper, soft inner lining, and — sure to be baby girl's favorite feature! — light-up detailing!
In search of quality at an affordable price? Check out EMU Australia Bronte Lo ($45), a kid-friendly boot that takes all aspects of childhood into consideration with their unique design. Not only do the special boots mold to your little one's foot after a few weeks of use essentially creating a custom-fit, but the dual-density emusole boasts added comfort made possible by the abrasion resistant rubber sole.
— Anya