Salma Hayek Says No Go On Pregnancy Glow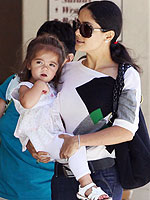 Fame
In her new film Cirque du Freak: The Vampire's Assistant, Salma Hayek sports a beard, and while friends and family assured her she looked "so hot," the 43-year-old actress tells PARADE she isn't buying it!
"It's like when people tell you, 'You look gorgeous' when you are pregnant," she explains. "You are like a swollen whale and never looked worse in your life, and somebody goes, 'You're glowing.'" In reality, Salma says, "they don't have the courage to tell you how bad you look."
The transformation Salma underwent for the role did not go unnoticed by daughter Valentina Paloma, 2, who was unfazed by what she saw. "[She] seemed to understand it was only makeup," Salma says "She was only seven months old and she was not freaking out."
Quite the opposite, Salma recalls that a "fascinated" Valentina would watch for "hours" as assistants put on and then took off the beard. "She knew not to touch it," Salma says before adding,
"I kept my daughter with me the whole time we were filming because otherwise I don't see her the whole day. She's an amazing child. At nine months old she was already walking and talking."
Valentina is Salma's daughter with husband François-Henri Pinault. Cirque du Freak opens Friday.

Source: PARADE
— Missy