Michelle Monaghan: Willow Is 'Getting Ready' to Walk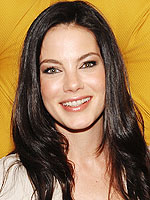 Dimitrios Kambouris/WireImagetd>
During a Friday visit to the Late Late Show with Craig Ferguson, actress and first-time mom Michelle Monaghan revealed that daughter Willow Katherine, 11 months, is "almost walking."
Of course, it's a woman's prerogative to change her mind — and baby girl appears to be conflicted about whether or not mobility is something worth pursuing, however! Michelle adds,
"She's basically getting ready to take those first steps. She's just teasing us! She gets down and squats and makes sure we're looking at her and then stands up and decides not to."
Willow is Michelle's first child with husband Peter White. Her new film, Trucker, is in theaters now.
Source: Late Late Show with Craig Ferguson
— Missy