Kendra Wilkinson: From Playmate to Parenthood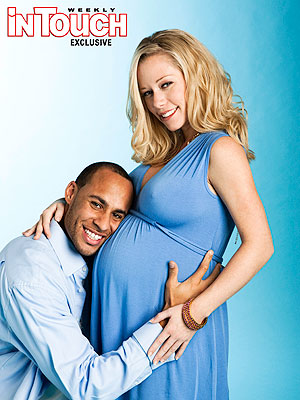 Richard Reinsdorf/In Touch Weekly for use on CBB
As a Playboy model, Kendra Wilkinson was used to being admired — and ogled — for her body. But now, seven months pregnant — with a protruding belly, hip pain and swollen hands and feet — the former Girls Next Door star truly has an understanding of what it means to feel beautiful on the inside, too.
"The reason I feel so beautiful is not because of my looks," says Kendra, who had no problem donning a bikini and proudly showing off her bump. "It's because of my bond with the baby."
Kendra, 24, and her doting husband, NFL star Hank Baskett, 27, sat down with In Touch at a studio in their temporary hometown of Indianapolis, where he has a new contract with the Colts, to talk about the highly anticipated arrival of son Henry Baskett IV in December (Kendra's due date was recently moved up to the 12th). "He'll be a momma's boy!" Kendra insists.
During the candid interview, Kendra nibbled on Crumbs cupcakes and Boston Market macaroni and cheese, while Hank playfully patted her belly button, kissed her and constantly asked if she needed anything. "We are so excited," she adds. "This bundle of joy will make us one big happy family!"
Click below for In Touch's interview and two more photos!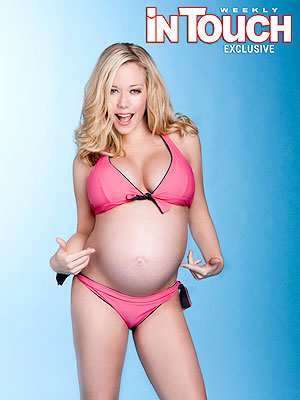 Richard Reinsdorf/In Touch Weekly for use on CBB
How much weight have you gained so far?
Kendra Wilkinson: I have gained 40 pounds. I still have a month-and-a-half to go. I was 110 or 115 and now weigh 150.
How do you feel about the weight gain?
KW: There are things I love about it. I love that my hips are growing, even though it hurts. I want that butt and am starting to get it, so I'm excited.
What have you been craving?
KW: I've been eating a lot of breakfast — eggs, bacon and cheese sandwiches with wheat toast, a lot of waffles with peanut butter. Peanut butter is my biggest craving. I actually put bananas and syrup all over it, too.
Even though I don't usually eat much meat, I've been eating a lot of ribs with barbecue sauce and steak. Also, my craving for chocolate came back. I never ate it before because it gave me migraines.
What kind of dad will Hank be?
KW: The best role model in the whole world! I am so happy we're having a boy first because I am excited to see the relationship between little Hank and Hank. I want him to be himself, but also have the same characteristics as Hank.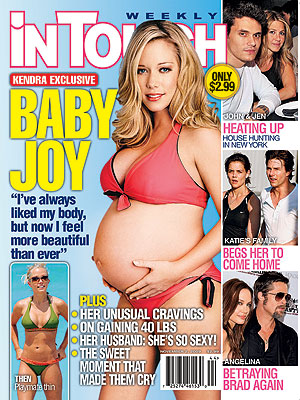 Richard Reinsdorf/In Touch Weekly for use on CBB
Has it changed your sex life?
KW: Yes, it's changed our sex life — for the worse [laughs]. I am a wild girl in bed and I can't really be that wild anymore because I have limits now. I have 40 extra pounds in my belly, so I get tired easily.
But no, of course, it's still great. I have a great man in bed, he definitely knows how to please me. But, yeah, we'll be better after when we have more energy!
Do you feel prettier pregnant?
KW: I have never felt this beautiful! The one thing I love about being pregnant is my skin, I used to have the worst acne. My whole life it's been horrible — on The Girls Next Door, it was disgusting. This is the best skin that I have ever had in my life!
What's the best thing about being pregnant?
KW: The greatest thing is probably just feeling like a queen. Everybody does everything for me. And Hank is always just giving me unconditional love — that different type of love that I've never felt before.