Expectant Sarah Jane Morris Gets Eco-Conscious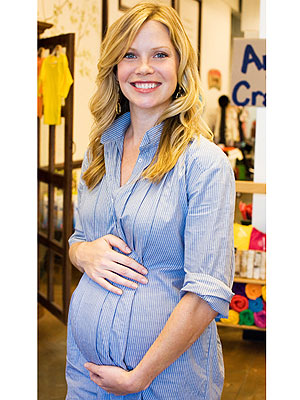 Lisa Franchot for use on CBB
The Hot Moms Club met up with Brothers & Sister's star Sarah Jane Morris for a day of eco-baby shopping at boutique The Little Seed, owned by actress Soleil Moon Frye.
Unlike her character Julia, who experienced fertility and marriage issues with onscreen husband Balthazar Getty, Sarah Jane is happily married to her college sweetheart Ned Brower (drummer of the rock band Rooney) and is expecting a baby boy in January.
Considering herself a "green advocate," mom-to-be Sarah Jane practices what she preaches: The actress composts her kitchen scraps, buys organic and vintage clothes whenever possible (and shops for baby at her favorite online shop, The Ultimate Green Store), uses eco-friendly cleaning products and drives an alternative energy car that runs on recycled vegetable oil.
Click below for to read Sarah Jane's take on her pregnancy and being green, and to see more photos!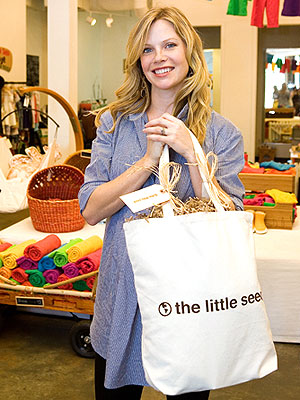 Lisa Franchot for use on CBB
Getting started:
My passion for being "green" started a few years ago when my brother-in-law converted his 80's-era Mercedes-Benz to run on 100% waste veggie oil.
I learned a lot about our deteriorating environment from him, and when I started thinking about what my own children would inherit, I was terrified!
I decided I could alleviate some of my anxiety by doing my part to make the world a better place for my children and grandchildren.
When I saw how easy it was to convert the car, I decided to go for it myself, so now I drive my own veg-mobile.
When you are doing something like that, it makes you think more about the smaller things you can do.
It's all about changing your habits, then taking them one step further.
Now, I not only take my canvas bags to the grocery store, I have a little bag in my purse that I pull out when I'm shopping anywhere — the drugstore, the mall, anywhere!
Recycling was easy, but I started composting (first I made a worm compost which I'm hoping my child will enjoy someday and eventually I got a yard compost). Now I think about everything I throw away…can it be recycled? Composted? Last resort is the trash, so in trying to reduce my garbage, now I try to think of ways I can reuse things instead or if someone else might want it.
I buy about one roll of paper towels a month — recycled ones of course — but I have tons of rags and dish towels. When they are down to threads, I throw them in the compost!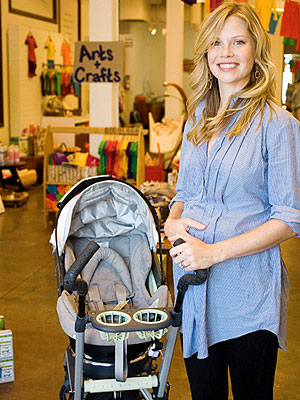 Lisa Franchot for use on CBB
Have the family involved:
My husband has adapted to my eco-conscious lifestyle, and it's great to have that support.
Sometimes it just takes being reminded a few times.
We've discussed how lucky our children are not to even think about these things — they will learn good habits from the get-go.
That's why I think it's so important for young parents to start making changes now.
Don't leave the faucet running — annoying at first, but eventually it becomes your new habit.
At home, we write what fruits and vegetables are in the refrigerator on a dry-erase board.
That way, you can stand there staring at the list until you decide what you want, instead of wasting energy leaving the refrigerator door open.
You also don't forget what's in there and let it go bad.
My large family has started to think more about being eco-conscious, but I'm the youngest and they all live in Memphis, Tenn., so it makes it harder to keep an eye on them, and I don't want to come off like I'm criticizing when I'm home visiting!
My dad is sort of an eco-activist by nature though…he's got his own vegetable garden, and I gave him a worm compost for his birthday one year. He has some land out in the country that he nurtures wildlife on and plants food and trees that will help preserve it.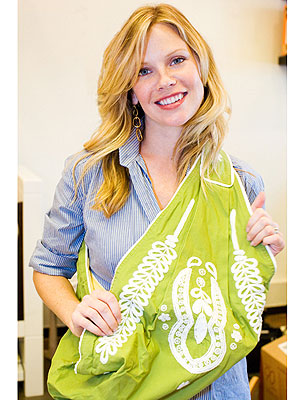 Lisa Franchot for use on CBB
Her eco-sin:
My biggest eco-sin is probably the fact that I'm not a vegetarian.
I know that raising livestock is one of the worst things for our environment, but I think the problem isn't that we eat meat, it's that we eat so much.
A steak used to be considered a luxury, something you had for special occasions, now, in America especially, you can get meat for so cheap that people almost expect it at every meal.
We don't need to eat that much meat, and in fact we'd all be healthier if we didn't.
That being said, I love bacon and filets, and all that good stuff, I just try to think of it as a luxury more than a necessity.
We do try to have "Meatless Monday" where my husband and I eat vegetarian all day, but since I've been pregnant, I'm ashamed to say, that rule has sort of gone out the window!
I do try to buy organic as much as possible though. The milk stays fresh so much longer too, it's amazing!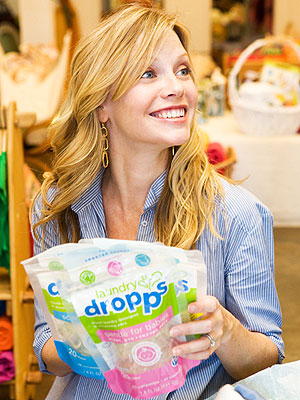 Lisa Franchot for use on CBB
Keeping fit:
Staying fit during pregnancy has been easier than I thought.
I found a great pre-natal Pilates class where the teacher doesn't treat us like we have handicaps, and I actually still get a good workout.
I have Anna Getty's pre-natal yoga video I can do at home, and I take walks with my husband several times a week.
Fortunately it's been summer a lot of my pregnancy, so I'm able to eat tons of fresh produce that we buy at the farmer's market.
Early in my pregnancy, one of my food aversions was green vegetables though, so a lot of the veggies we grew in our home garden were given to the neighbors!
Delivery day:
I'm hoping to have a natural childbirth, drug-free in a hospital.
I'm excited, curious, and terrified about doing it, but something in my gut is telling me that it's an experience I don't want to miss out on — even though I know it is going to be painful and hard.
It is called "labor" after all! But I look at it as a privilege we have as women, and I think that it will only make me stronger as a person.
I'm being flexible however because I obviously want whatever is best and safest for my baby.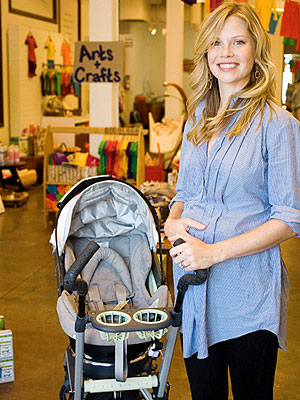 Lisa Franchot for use on CBB
Plans for parenthood:
I'm looking forward to getting to know this little person I'm growing inside of me!
I can't wait to create new memories and traditions with my new family because I have so many great ones from my own upbringing.
I'm terrified about the times I'll screw up and the mistakes I'll make (because no one is perfect after all), but I'm hoping he'll be forgiving!
In the meantime, I can't wait to teach him about growing food and how the worms help that happen, and hope that he has a beautiful, sunshine-y world to grow up in that he will want to take care of someday as well.
Check out more photos and details of Sarah Jane's Little Seed trip in the December issue of Pregnancy magazine!