Camila Alves and Levi Bundle Up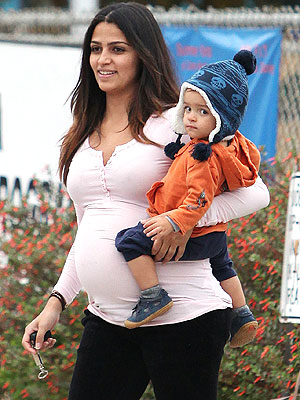 GSI Media
Her bump has moved off the beach and into the streets!
Camila Alves and son Levi, 15 months, traded in bikinis and waves for long sleeves and a warm hat on a breezy Sunday in Malibu, Calif.
The model, 26, expects her second child with Matthew McConaughey in late December/early January.
Last month, the actor blogged,
"Above and beyond all other news, the most exciting is my lady Camila and I got another baby on the way…not sure if it's a boy or girl but we have our instincts…what are you thinking?"
Levi wears Old Navy's Boys Cable-Knit Trapper Hat in Blue Skulls ($10.50).
He also wears Stride Rite's "Pullet" Soft Motion shoes in Navy ($45; on sale for $29.99), gifted to him in Jewels and Pinstripes "It's Fun to be One" Birthday Bag.
Camila wears Paulina Maternity's Falling in Love T-shirt in Light Pink ($79).