Reese Witherspoon on Raising Kids Away from Home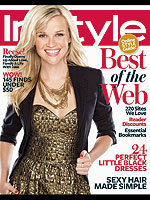 Courtesy InStyle
As a transplanted Southerner living in California, Reese Witherspoon admits that she misses the creature comforts of home.
"L.A. is where my job is and I have to be close, but I never imagined that my children wouldn't grow up next door to my brother's children, or my mom and dad wouldn't constantly be around," the 33-year-old actress tells the November issue of InStyle. "You know, I had dinner every night with my grandparents as a kid, so I think missing out on that is a hard compromise."
Fortunately, Reese says that she and daughter Ava Elizabeth, 10, and Deacon Reese, turning 6 this week, have found a little slice of home in Hollywood. "I have a lot of Southern friends in L.A.; I gravitate toward them," she explains. "I think of those people as a part of my family: They take care of me and I take care of them."
In the interview, Reese concedes that she sometimes struggles to balance her career with the demands of being a single mom-of-two. "I love my life without work and I love my life with work," she says.
It was Reese's own mom who recently gave her clarity on the topic, however, when Reese was feeling stressed about working a 15-hour day. "She was like, 'Yeah, but think of it as a part-time job,'" Reese recalls. "And I thought, that's actually right, it puts it in perspective."
"I work incredibly hard for three months, but then I get a break. It's about really enjoying my time off. Where do I relax the most? Where are my children happiest? My ideal scenario is to do one movie a year. But as an actor, I don't think you can do an awful lot of planning. In fact, my new philosophy in life is I'll cross that bridge when I come to it."
Her divorce from actor Ryan Phillippe was no doubt tough, but Reese says it taught her the importance of living in the moment. "You reconsider certain things, but you have to keep going," she notes. "You have to keep it together for your kids and for yourself, too."
When she finds some downtime, Reese says she enjoys working out with girlfriends. "It's an acquired skill, being able to discuss your love life, children and friends — all while running," she jokes. "But we have mastered it."
The kids are just as active as mom, Reese shares. "When [Ava] and Deacon get home from school, it's more about gymnastics, horseback riding, karate or whatever." Her daughter will also "sometimes" raid mom's closet, Reese says!
"She's almost as tall as me — it's getting scary."
Source: InStyle, November issue
— Missy