Jason Bateman Relies On 'Rolling Ambien' For Francesca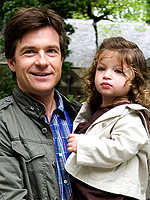 Antonie Brzostoski/INF
Daddy duty can be tough! Barely able to keep his eyes open during a recent visit to The Ellen DeGeneres Show, a sleep-deprived Jason Bateman admitted that the morning routine with daughter Francesca Nora, 3 this month, has been anything but mundane. "My daughter didn't have a great night sleep last night — she's got a phlegmy thing that kept her up — so I'm a little bit tired," he began.
After dropping off baby girl at preschool, Jason headed back home to squeeze in some much-needed exercise, only to hear his cell phone chirp seconds before warming up.
"I get a call from the headmistress [and] she doesn't even announce herself, she says, 'Your daughter has a 103 degree temperature," he shares. "And I mean, I didn't know this, I swear! Francesca must have taken a turn for the worse somewhere in the morning."
The events quickly went from bad to worse when the Extract star arrived at the school to pick up his little girl!
"So I had to go back there. I pick her up, I get a hairy eyeball from everybody in the school like that I'm either dropping my kid off so they deal with her sickness or that I'm trying to infect the entire student body, both of which may have been true, but I won't admit to any of it."
As the father-daughter pair made their way to the car, Jason found himself contemplating how to soothe Frannie, who was crying and uncomfortable. His answer? The reliable "rolling Ambien," better known as the family car! "She's starting to doze off a little bit and I figure, that's great, because maybe she'll get better when she sleeps," he notes.

In an effort to keep Frannie sleeping soundly, Jason headed to the highway in order gain speed. "Somehow that puts her out because it pins her head back in the [car seat] as opposed to it falling forward and her waking up," the actor jokes. Once he reached his desired speed, Jason added in a bonus move!
"So I try to carry a lot of speed and I incorporated a semi-shimmy on the wheel 'cause it gets the head going just a little bit … the whole thing of the rocking — you want to get the head moving like a bobble head."
With Ellen noting that his choices may not have been the smartest, Jason laughs that he was relying on his veteran driving skills. Unfortunately, Ellen wasn't the only one doubting his parenting methods!
"I got a little carried away with it because she really started to doze off. Now people are starting to pass me and giving me looks like, 'Oh, look who's drinking at 10:30 in the morning,' which was awful. I got a couple of horn honks which woke her up, so it was not a good morning."
Francesca is Jason's first child with his wife Amanda Anka.
Source: The Ellen DeGeneres Show
— Anya