Elisabeth Hasselbeck Reveals Nip Slip on Her View Return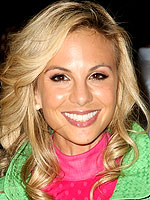 Andrew H. Walker/Getty
Two and a half months after giving birth to her third child, Elisabeth Hasselbeck waded right back into the gaggle of gab on The View Monday, even letting loose with an embarrassing revelation of her own.
First she shared a picture of her 10-week-old son and related how tame it was compared to another photo she recently shared with her family. So how did a picture of Isaiah Timothy's first smile, which she sent out to her family e-mail list, cause such a stir?
"You know when your baby smiles for the first time … I reach for the iPhone — I had just been feeding him — and I took the photo," she said. "He had this huge smile. Immediately I forward it to everyone on my family distribution list — my mom, my dad, my brother, Tim [Hasselbeck]'s dad, his brother, his mom, his other brother and I send it to myself. So I get home and open up the photo … Yeah, no wonder why he is smiling — because my nipple is in the photo!"
"It's worse than drunk dialing, to forward pictures postpartum," she said of inadvertently flashing her entire family. "It's embarrassing."
During her maternity leave, Elisabeth was temporarily replaced by headline-winning guests hosts including Kate Gosselin, who was in the middle of her ugly divorce, and Meghan McCain, who recently got into a scrape with fans and the media over a supposedly inappropriate Twitter photo.
"I'm the one who just forwarded a photo with my own nipple," Elisabeth joked.
— Michael Y. Park
Click below to watch a video featuring a photo of Isaiah.