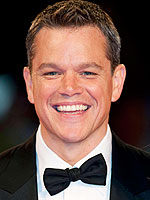 Alpha/Landov
For Matt Damon, philanthropy is a way of life — and it's the only life he's ever known. The 39-year-old actor credits mom Nancy for instilling in him at an early age the importance of giving back.
"When I was a boy, my mom had a magnet on the refrigerator with a little picture of Gandhi along with a quote from him. It said: "No matter how insignificant what you do may seem, it is important that you do it,' Matt recalls in a new interview with PARADE. "As a child, I was raised to believe that, and to this day I do my best to live it."
He's also doing his best to pass that mindset on to daughters Alexia, 11, Isabella, 3, and Gia Zavala, 13 ½ months. "I can't think of any more important value to instill in our children than the desire to help others," he explains.
"I feel strongly about setting an example for them. Real problems can be solved by the next generation if we instill in them the right values. I'm not a politician, and I don't want to tell anybody how to live. But I must say, all these years later, I still think Gandhi had the right idea: No matter how small the contribution we make may seem, it's crucial that we all do our part."
While the girls are still young, Matt says that they've been staying behind with mom Luciana during his visits abroad. Someday, however, he says he's looking forward to having their company as he comes face-to-face with those he's working to help with Water.org and the ONE campaign. "It's really powerful when you get to meet the people and shake their hands and listen to their stories," he says.
"We don't like to be separated, but we both feel it's so important to learn about these things. There's so much I don't know. In the future, I know these trips are something we'll do as a family."
Source: PARADE
– Missy