Tike Tech City X4 Swivel Single Stroller: For Babies Big and Small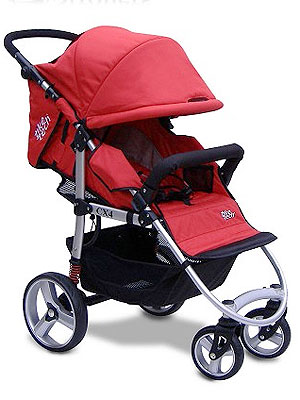 Tike Tech City X4
With so many options to choose from, finding the right everyday stroller can be a daunting task.
First you consider price and then what features you can't live without.
If you're in the market for a mid-range, full-size everyday stroller with some bonuses like a huge canopy and an extra-tall seat, check out the Tike Tech City X4 swivel single stroller ($320).
Click below to read about why the City X4 is ideal for a toddler.
I expect an everyday stroller to be convenient and the City X4 didn't disappoint. We went from unpacking the stroller to actually strolling in a matter of minutes. The City X4 is also super comfortable — especially for bigger kids. My almost 3-year-old son is tall for his age and he often bangs his head on stroller canopies when they open. This stroller has a generous 25-inch clearance between the seat bottom and the canopy so we were able to open and close it with ease.
I also love the seat's other design features. The padded five-point harness comes with a chest clip, making it downright impossible for our crafty toddler to free himself while strolling. I also appreciate the one-handed recline, by way of a strap system. Just note that the seat doesn't fully recline, so it's not suitable for a newborn and is instead recommended for six weeks and up. You can buy an adapter bar ($40) which makes the City X4 usable with a variety of infant carseats. Or you can try Tike Tech's beautiful bassinet ($100).
The four rubber-coated wheels handle extremely well, especially the 12-inch rear wheels which feature independent frame damping (IFD) technology to reduce vibrations at impact. This stroller is not suitable for all-terrain use because the 6-inch front two wheels swivel and do not lock. All in all, this stroller is an extremely easy push and offers up a smooth ride for baby.
Folding and unfolding it is equally smooth, consisting of a few easy steps. Simply undo the safety lock, pull up on both levers on the handlebar and push down to collapse the stroller in on itself. A large velcro strap keeps the stroller in the folded position.
But no stroller is perfect. While the bumper bar provides an added level of safety and gives baby something to grab onto, I would have preferred a tray. Since the seat is long enough to accommodate an older child — one of the biggest highlights of the City X4 — it would have been nice if the stroller also gave a self-feeding toddler a dedicated space to place their sippy cup or snack bowl. But you can buy a cup holder ($20) for mom or dad to add on. On the flip side, the CityX4 does a great job of providing storage. It sports a sizable basket that can easily hold a large diaper bag, plus three separate pockets for odds and ends.
I really like the City X4 for mall strolling or neighborhood walks. It provides both a comfortable ride for baby and easy pushing experience for mom or dad. And best of all, the extra-tall seat and canopy clearance ensures that the CityX4 will grow with your child — which is great if you have a toddler who refuses to walk, like mine!
— Missy