Russell Crowe Says Tennyson May Follow In His Footsteps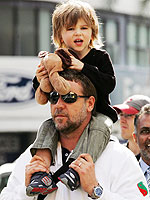 Scope Features/Pacific Coast News
Expanding his list of professional accomplishments, Russell Crowe can now add producer to his repertoire — the actor is currently starring in and co-producing his latest film, Robin Hood. That said, despite his hectic shooting schedule, he tells Entertainment Tonight that his two children — sons Charles Spencer, 5 ½, and Tennyson Spencer, 3 — are never far from his mind.
"They haven't visited the set a lot because there's just a lot of moving parts so it can be a little dangerous," he says, before adding that both boys were happy to be on set for the day while their mom Danielle Spencer spent time "doing some of her music stuff."
Time on his father's set is only further encouraging Tennyson's acting bug! "He's not a Hollywood kid by any means, but he's an actor, totally," raves Russell. And while the doting dad would prefer his children steer clear of the industry, he admits that may be easier said than done when it comes to his younger son.
"If it's in their blood, fine, but I don't want to force them into it. I don't want to put them in a situation where they feel they got to do that because that's how they're going to get daddy's approval," he explains.
"But Tenny just sort of has the natural flash in his eyes."
Source: ET Online
— Anya