Emily Mortimer Says Son 'Mocks' Her English Accent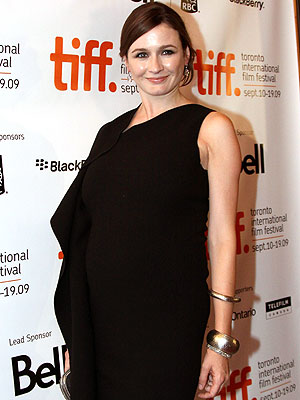 Scott Kirkland/INF
Even though Emily Mortimer has immigrated to the United States, her accent provides a constant reminder of her native England — much to the chagrin of her 6-year-old son Samuel John!
"[He] mocks me every time I open my mouth," the 37-year-old actress tells the UK's Psychologies magazine. "He talks with an American accent, which I don't mind, but I do resent him taking the piss out of mine!"
When she's in need of a reminder of her late father, however, Emily says that she need look no further than Sam himself. She explains,
"If someone is boring him he'll give this little look, exactly like Dad. It's very comforting. I wish they could have had longer than five years together."
In the interview, Emily — due in January with her second child — recalls her labor and delivery with Sam.
Even though she'd "never been averse to any kind of medication," Emily says she was "brainwashed" into believing that "you have to go natural in order to be a real woman."
With that mindset in place, she started reading books on natural childbirth, taking a yoga class, hired a doula and purchased a water tank — but her efforts were all in vain. "[I] struggled on for 24 hours — and then I had an epidural," she reveals.
"I can remember saying to the anaesthetist, 'Oh, I love you, thank you so much. I don't know what I was thinking. I've always loved drugs. I've never been known to turn a drug down!'"
Sam is Emily's son with husband Alessandro Nivola.
Source: Psychologies
Thanks to CBB reader Autumn.
— Missy