Cole Hamels on the 'Best Cop Ride' of His Life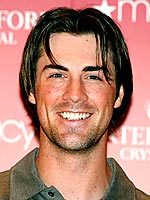 Tom Walck/PR Photos
It's not every day that an expectant father receives a police escort to the hospital, but that's what happened last Thursday for Cole Hamels. The 25-year-old Philadelphia Phillies pitcher learned during Game 2 of the National League Division Series matchup with the Colorado Rockies that wife Heidi Strobel had gone into labor, and his busy day got even busier.
After quickly showering at the ballpark, Cole — who was arrested after a bar fight in Clearwater, Fla. in 2005 — hopped in a squad car for the ride to Lankenau Hospital in Philadelphia. "That was the best cop ride I've ever been a part of, when I wasn't in the back," he quipped this week. "That was pretty exciting on the streets of Philadelphia."
His thoughts en route were a whirlwind, the former World Series MVP admits.
"When I'm on the field, I'm all about baseball. Then . . . after I was done, getting that call, the excitement level starts up. But still, I think you're just more nervous about the situation. You don't know what's going on."
Heidi delivered the couple's first child — son Caleb Michael — the next day, and Cole says baby boy's arrival was worth the wait.
"I didn't know what to expect, what to think, but it was just the most joyous moment I could be a part of."
Sources: Philly.com, DelcoTimes.com
— Missy