Wallcandy Arts: Sticky & Sweet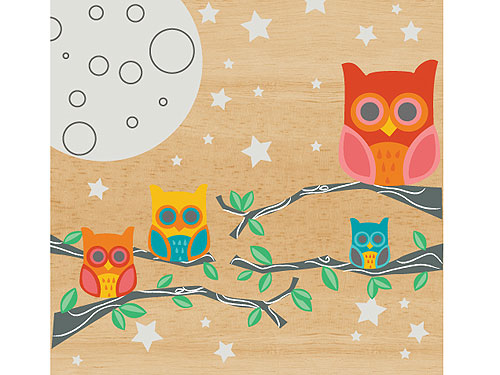 Wallcandy Arts
Want to add some color to your nursery, but don't like to paint? Want to add a personal touch, but can't afford a customized mural? Try Wallcandy Arts — a line of super cute decorative wall stickers that come in a variety of colors and patterns. They're also 100% removable and won't damage your wall. It's no wonder celebrity moms like Debra Messing, Kate Hudson and Courteney Cox-Arquette are fans!
The designs range from bold and funky (Nightly News, above, Candy Factory) to sweet and subdued (Fly Society or Deerly Beloved). Each kit comes with a plethora of stickers that will take up several feet of wall space.
I especially love the Smart Bees and Trees collection. A joint effort between Wallcandy and the Vega Project, it contains six sheets of over 50 decals in eye-popping black and white — a color scheme pediatricians agree helps improve the gross motor skills and eye development of newborns.
Ready to take things to the next level? Check out the company's chalkboard circles. These patented 18.5″ round stickers come four to a pack, and even arrive with dustless chalk that is free of common allergens like latex, dairy, casein, egg, gluten, peanut, tree nut and soy.
Prices range from $25 to $76.
— Missy