Uma Thurman Happy to Portray a 'Real Mother'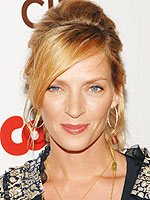 Peter Kramer/AP
Actress Uma Thurman jumped at the chance to play a mom in Motherhood because of how closely it resembles real life with daughter Maya Ray, 11, and son Levon Roan, 7 ½ — and how different it is from some of the roles which made her famous.
"I never got to play a character who was a mother," she notes in a new interview with Good Morning America before clarifying, "who wasn't a mother but also an assassin."
"A real mother. Someone who doesn't kill people for a living. [It's] more close to me, I have to say."
Motherhood chronicles the life of a "under-appreciated, stressed" New York City mom over the course of one day. "I love the argument of this film because it's really looking at this woman who is choosing to be a stay at home mom; She's previously a professional person, and she prefers to raise her own children," Uma explains. "Economically, why pay someone more than you're going to earn writing a book to take care of your children?"
As a consequence to that decision, however, Uma's character "let herself go." Noting that the film examines "what that dynamic" does to moms, Uma adds,
"In my own life, [motherhood] has been the nicest experience I've ever had as a human being. Of all the things out there, being a parent has been the most rewarding and deeply nourishing expansive experience I've had."
Maya and Levon are Uma's children with ex-husband Ethan Hawke. Motherhood is in select cities Oct. 23.
Source: Good Morning America
— Missy