Taye Diggs on Childbirth: 'It Was Crazy'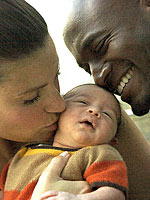 AP/Courtesy of Idina Menzel and Taye Diggs
Calling wife Idina Menzel "a warrior" for delivering their 6-week-old son Walker Nathaniel naturally without pain medication, Taye Diggs opened up about the happy day during a Thursday visit to The Ellen DeGeneres Show.
"It was amazing. I was holding her hands and cheering her on," he reveals. "I said I would look two times. I would look when the baby was crowning, and I wanted to look right when Walker came out."
"Then when he came out, all of a sudden it was like my inner gangster came out. I was like, 'Yeah baby, you did that thing, that's what I'm talkin' about, that's my boy!'"
Adding that "it was crazy" and that he "couldn't control" himself, Taye likened the experience to "the Super Bowl, World Series, World Cup, everything wrapped up into one."
There were some tense moments leading up to Walker's debut, and watching Idina experience childbirth in full was almost too much to bear. "When that first pain hit her and I saw her face, I was like, 'Okay, I'm just going to be in this other room…'" the 38-year-old actor jokes.
Things got off to a far more mellow start, however. "There was something going on that morning, so we knew, 'Okay, this is going to be a special day,"' Taye explains. "She said, 'Go off to work, and if I need you, I'll call you.'"
When that call came, Taye was ready!
"In the movies and on TV, you always hear everybody's rushing, but everyone is telling me when it actually happens, there is no need to rush. There's no need to speed. So on the way home, I was constantly telling myself, 'Relax, relax, be cool.'"
After arriving at the hospital "the labor really start[ed] to kick in," Taye added, and ultimately lasted between seven and eight hours.
Source: The Ellen DeGeneres Show
— Missy
Click below to watch the video!