Minnie Driver on Her Easy Traveler Henry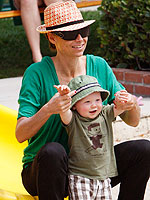 Mike/Splash News Online
Minnie Driver said during a Wednesday visit to Live! with Regis and Kelly that her 13-month-old son Henry Story has benefited from mom's frequent flyer status in more ways than one. "He will sleep [anywhere]," Minnie says — including the closet! "I'll put him in the quietest place we're in," she explains.
"If we're in a hotel and the quietest place is the walk-in closet, then the crib goes in there. He sleeps in the bathroom [too]."
When mother and son are en route to their latest destination, Minnie says that Henry is just as easy.
"He walks up and down the aisle [of the airplane] and pats people on the arm and bows his head," she says. "He's kind of like the Pope. Little benedictions for everybody!"
Minnie and Henry — whom she calls "the great story" of her life — were recently in Nashville, where the 39-year-old actress and singer performed at the Grand Ole Opry, and where Henry put on a show of his own. "He played backstage," Minnie recalls with a smile. "He played piano."
As she makes the media rounds in promotion of Motherhood, Minnie couldn't help but think back to making the film on the streets of New York while heavily pregnant. "There was a heat wave, and it's like you have a heater inside you when you're pregnant anyway," she explains. "There were definitely some moments where it was pretty challenging."
The temperature outside turned out to be the least of her worries, however.
"The paparazzi…they were really hoping my water would break on the corner of Sixth Avenue. I felt like they were kinda like, 'Hey is she gonna go? We're gonna get it.' It was so awful."
Next up for Minnie and Henry? Halloween! "He's going to be the crocodile hunter and I'm the crocodile," she shared.
Source: Live! with Regis and Kelly