Lindsay Davenport: Husband's Help Makes Her 'The Luckiest Girl'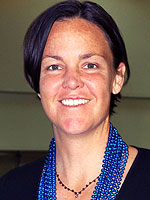 Picture Media/INF
Although she is only 3 ½-months-old, Lauren Andrus Leach already has her future mapped out if mom Lindsay Davenport has a say in the matter! "[We're hoping Lauren is] a little bit of a tomboy, but we'll see," the former World No. 1 tennis player tells Pregnancy in their October issue.
"Sports is our way of life. It'll have to be like that for our kids."
Fortunately, Lauren already has a leg up on her older brother Jagger Jonathan, 2. "My son Jagger was born at only 36 weeks; Lauren was born at 39 weeks," Lindsay notes, explaining that the three additional weeks in the womb were worth it. "She was obviously full-term and the difference in how big she is, how much better her ability to suck is, and her head control is — it's truly remarkable."
For Lindsay, the road to recovery after giving birth to her second child has been far harder than imagined; She gained 30 lbs. with her son and found herself putting on 20 more during her subsequent pregnancy, for a total weight gain of 50 lbs. "My hips got bigger and my stomach got bigger sooner," she recalls.
The gradual return to tennis has far less to do with her physical condition, however, and is based more on her dedication to her children. "I came back and started playing tournaments 10 weeks after [Jagger's birth]. That said, I did start hitting a few days ago, but it's about much more now: I'm 33, I've had two kids, it's definitely not as easy to jump right back into it."
A true working mom, Lindsay has her days scheduled down to the minute in order to maximize her time with her kids. "If you're practicing for 90 minutes, you need to bust your butt for 90 minutes to get it all in, so you can have that hour lunch with your child," she advises.
And when the going gets tough and 24 hours in a day aren't enough, Lindsay seeks advice from friend Gwen Stefani.
"I have an enormous amount of respect for her and Gavin [Rossdale]: when they're with their kids, how they go about their jobs, how they feel about parenthood and working," she explains.
"[Gwen's] job is crazier than tennis and, for her, there's no chance she's going to leave her children at home and there's no chance she's not going to spend time with them during the day, even if it means getting four hours of sleep."
While the No Doubt frontwoman may serve as an inspiration, it is none other than Lindsay's husband Jon Leach — whom the tennis star calls the true "parent" of the household — who leaves her amazed. "Truly, I'm the luckiest girl: He's home by 4:00 p.m. and when he walks through the door, he does everything with my son — and I don't exaggerate," she raves.
"Any time in the middle of the night, if there's a cry, he's always the first one up. I kind of pretend I don't hear it a lot of the time."
Source: Pregnancy 360
— Anya