Alison Sweeney Tests Old Wives' Tale on Megan
Move over Angel, Cruz and Kingston, there's a new mohawk in town! Or — at least — there was ever so briefly for 9-month-old Megan Hope, daughter of Biggest Loser host Alison Sweeney. During a Wednesday visit to The Ellen DeGeneres Show, the 33-year-old actress flashed a photograph of her mohawked baby girl and said that she was acting on the advice of her hairdresser.
"In Latin American cultures they have a thing where they shave babies heads because when their hair's so fine, it grows back thicker," Alison explained. "It's an old wives' tale."
After having "a glass of champagne or two" with her own mom, Alison said the duo decided to take action. "We shaved her head," Alison laughed before adding,
"So of course if you're going to do it, you have to do the mohawk first! But it's grown back thicker! It really has! It's cute and thick and blonde. It's a bit of a Chia Pet sort of thing."
In addition to Megan, Alison is mom to 4 ½-year-old Benjamin Edward with husband David Sanov.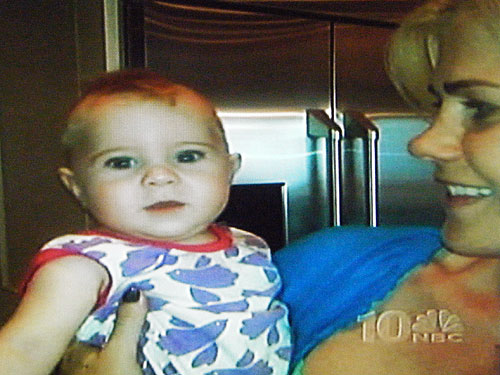 Screencap courtesy Ellen for use on CBB
Source: The Ellen DeGeneres Show
— Missy