Any mother whose child has been through the pacifier phase can relate: in a quiet crowd the little one starts to wail, only for a flustered mama to look down and realize baby's binky is long gone! Where to? Most likely the floor, tangled up in clothes, or — worse yet — the dog's mouth.
Fortunately, keeping baby satisfied with their pacifier close at hand — and providing moms with a bit of temporary relief! — is more than doable with the countless pacifier clips on the market. Not only can the child learn to soothe themselves by having easy access to their binky, but moms can rest assured their little one's pacifier stays clean!
Celebrity parents seem to have gotten the memo when it comes to the benefits of a pacifier clip — we've tracked down three baby boys who were spotted out and about with their parents, both binky and clip on hand! Little Levi stared down the paparazzi — and showed off his Haba Baby Motley Pacifier Clip — while shopping with his dad Matthew McConaughey last April; Zuma Nesta Rock made sure his pacifier stayed right where it should be — his mouth! — while safely in the arms of his mama Gwen Stefani in May; A sleepy Dashiell Orson was too busy snoozing to miss his pacifier, but mom Naomi Lowde-Priestley had it close by with baby's Ladybugs and Lullabies Binky Link in Cocoa Chic Blue in case he woke up!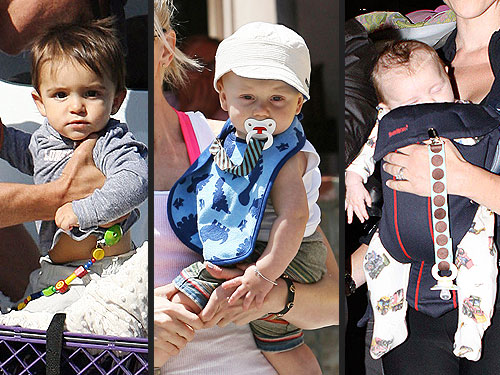 Levi McConaughey; Zuma Rossdale; Dashiell Priestley – INF; Rachpoot/INF; John K/Todd G/Splash News Online
Steal That Style: Keep It Clipped with the pacifier clips below!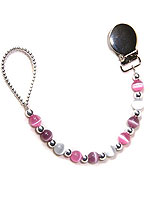 Baby Bintz Cat's Eye Binkie Clip
Breaking Bank: Simply gorgeous! We're loving Baby Bintz Cat's Eye Binkie Clip ($22) for baby girl. If the price seems a bit of a stretch for a pacifier clip, consider the amount of time an infant generally uses their binky — not only will the months of use give you plenty of bang for your buck, but the sterling silver and beautiful Cat's Eye 'Fiber-Optic' beads give your little one an undeniably chic edge.
Go green with Comforter Chains from Keptin Jr ($20), an organic pacifier clip that comes complete with a soft, cotton terry cloth doll, filled with natural wool (and an adorable cap!) on the end. An added bonus? Each clip is handmade in Lithuania.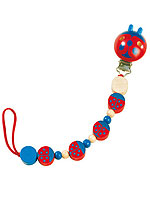 Haba Ladybug Pacifier Chain
Not Pinching Pennies: Made from beech wood and a nylon string, check out celebrity favorite Haba Ladybug Pacifier Chain ($15). If the ladybug style is not quite for you, the family-owned company offers many alternatives: try Blossoms, Pixie World, or Hearts!
Known for their adorable hair clips for little girls (spotted on celebrity babies such as Violet Affleck, Valentina Pinault, and Bailey Baio), the creative juice at Ladybugs and Lullabies keeps flowing with their pacifier clips. Choose between the velcro attachments or the loop leash — we've got our eye on Ladybugs and Lullabies Disco Dots Binky Link ($10)!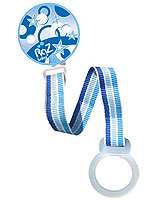 RaZbaby BPA Free Pacifier Holder
Bargain Buying: No need to empty the wallet for eco-friendly products! For those looking for a great deal, check out RaZbaby BPA Free Pacifier Holder ($4.50).
Perfect for a pacifier, Bebe Belay's Pacifier Clips ($6) also work well to keep baby's toy or cloth book from falling out of reach. We appreciate the length adjuster which, for younger babies, ensures the binky does not get tangled in loose clothing. Once your little one outgrows their pacifier, consider using the clip as a make-shift bib — simply attach both nickel-free clips to a cloth and baby is all set!
– Anya