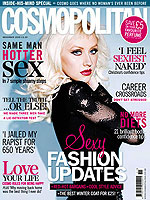 Ellen von Unwerth
Telling the November issue of Cosmopolitan UK that people should never be "ashamed…of their sexuality," Christina Aguilera won't be caught singing different tune now that she's a mom to son Max Liron, 21 months.
"I love to embrace it — there's such a sense of freedom in it," the 28-year-old songstress says. Urging other new moms to keep a "strong sense of yourself," Christina adds,
"You're still you, and you can still be confident in your sexuality."
Motherhood hasn't changed the trajectory of her career, either. "I'd never give up my musical or artistic side just to be a mother," Christina explains. "There's got to be a balance and I want to set that example –- as the kind of woman I want my son to respect."
Max is Christina's first child with husband Jordan Bratman, whom she wed in November 2005.
Source: Cosmopolitan UK, November issue
– Missy