Nia Long's Message to Massai: Embrace Your Afro!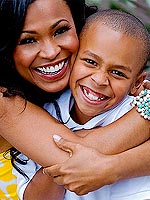 Courtesy Nia Long
A field trip to a hair salon with her Brownie troop when she was younger left a lasting impression on Nia Long, who vividly recalls the stylist's confusion upon seeing the only African-American among the group of girls.
"[She] was just scared to death," Nia explains to Essence. "She didn't know what to do; I had a big Afro. It was horrific."
Fortunately, Nia — who can be seen in Chris Rock's new film Good Hair, a documentary that explores the complexities surrounding black women and their hair  — notes that her childhood experience has made her that much more determined to embrace her roots for the sake of her son, Massai Zhivago. "He will say things to me like, 'Mommy, why do you have a weave?' or 'What's that white stuff you put on your hair?'"
Nia's hair styling routines don't go unnoticed by Massai; The 8 ½-year-old even showed interest in using his mama's products on himself, much to the actress' horror!
"Once for Halloween he wanted spiky hair and he said, 'Why can't you just put that white stuff on my hair to make it spiky?'" she shares. "I gasped and was like, 'What am I doing to my child?!'"
In an effort to teach her son be proud of his heritage — Afro included! — Nia jokes she often cites none other than President Barack Obama as Massai's role model.
"But thank God for Obama because I'm like, 'He has an Afro so you need to wear yours proud.'"
Source: Essence
— Anya