Jeffrey Tambor Welcomes Twins Hugo Bernard and Eli Nicholas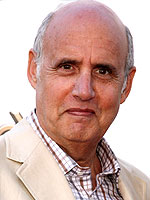 Kiley Bishop/London Ent/Splash News Online
It's the honest truth: actor Jeffrey Tambor has twin boys.
The Arrested Development star, 65, who can currently be seen in The Invention of Lying, and his wife of eight years, Kasia, welcomed sons Hugo Bernard Tambor and Eli Nicholas Tambor on Sunday, October 4th.
"Everyone is thrilled and healthy," the actor's rep tells PEOPLE.
The twins join siblings Eve Julia, 2 ½, and Gabriel Kasper, 3 ½, as well as Jeffrey's adult daughter from a previous relationship.
The couple announced the pregnancy in June.
— Julie Jordan