Hilary Swank on Motherhood: 'When the Time Is Right, I'll Know'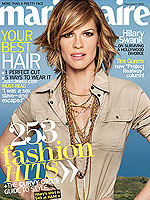 Courtesy Marie Claire
Million Dollar Baby star Hilary Swank has babies on the brain — but the Oscar winner says, for now, there is a different kind of baby taking center stage.
"For me, my career is like, for lack of a better word, a baby," she tells Marie Claire. "I always knew that I wanted to act, since I was 7-years-old." For just as long, however, Hilary concedes she has been "thinking about the day" she would become a mom. She adds,
"When the time is right, I'll know. I am aware that next week, I turn 35. But I am also aware that the timing has to be right."
She's already learning what it's like to live with a child, by way of boyfriend John Campisi's 6-year-old son Sam, and beginning to consider her choices more carefully as a result. A self-confessed fan of sleeping in the nude — "I just toss and turn too much…if I'm in clothes, I get all twisted up," she explains — Hilary predicts that the practice will be coming to an end soon.
"You wonder at what age you should stop walking around nude," she muses. "Every morning he comes into the bedroom, and you're just nude." Hilary is quick to point out, however,
"He doesn't look twice; he doesn't think about it yet."
Source: Marie Claire, November issue
— Missy