Step 2 LifeStyle Gourmet Café Kitchen: For Multiple Cooks in the Kitchen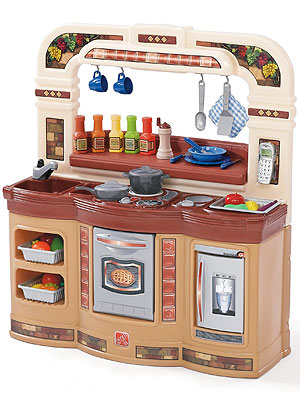 Step 2 LifeStyle Gourmet Café Kitchen
One of the highlights of the Step 2 LifeStyle Gourmet Café Kitchen ($100) is the dual-sided design that gives my twins plenty of space to interact. Sure they can both stand on one side of the kitchen, playing with the sink, stove or appliances. But the open window and counter space on the opposite side makes it ideal for shared play.
Putting it together wasn't difficult, especially once we got out the drill to burrow the screws through the plastic. And when the stickers were in place — which gives it a French country/modern look — my little ones were ready to get cooking.
The kitchen includes two battery operated sound features: a burner that has boiling and frying sounds and a cute phone. However, without batteries, it was just as fun for my kids. The deep sink has a swiveling faucet and there's storage space for all of the accessories.
It also comes with two place settings of bowls, plates, cups and flatware, three storage baskets, lidded pots and pans, spices, a pepper grounder, food, etc. Plus, the durable plastic is easy to keep clean and built to go the distance.
— Sarah, mom to twins Lily and Logan, 19 months, works part-time and obsesses over things that are perfect for two while simultaneously making her life a little easier