Safety 1st Complete Air Convertible Carseat: Cutting Edge Features at a Lower Cost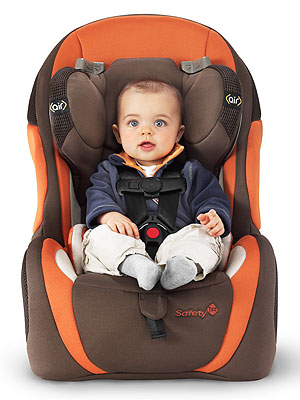 Safety 1st
In the event of a car crash, head and neck injuries pose the biggest threat to a small child. That's why it's important to buy the best carseat available. However, not all carseats are made the same — and all too often, you get what you pay for.
That's why we were excited to check out the new Safety 1st Complete Air Convertible Carseat ($250). It offers cutting-edge side-impact technology at a competitive price without sacrificing safety.
Click below to read about the groundbreaking crash tests conducted on the Complete Air.
With their latest version, Safety 1st has gone to great lengths to protect your child's head. There is extra cushioning that literally cradles your baby from the neck up — and I'm not talking about the standard energy absorbent or EPS foam you'll find on most carseats. Instead, the cushions are filled with air, which release when compressed. They also extend the "ride down" time (the term for the amount of time it takes for a child's head to strike an object after impact), which diverts energy from the crash, resulting in reduced crash forces.
Fortunately, we didn't need to crash our car to find out if the Complete Air works. Safety 1st tested its 'Air Protect' technology by simulating side impact collisions –the most violent and often deadly car crashes for children. The testing was the result of a collaboration between the Dorel Juvenile Group (DJG) and Kettering University's renowned Crash Safety Center, who together developed a new standard for side impact testing so groundbreaking that their findings have been shared with the National Highway Traffic Safety Administration (NHTSA).
The expanded safety features don't end there. Up to 40 lbs. and 40 inches, the Complete Air allows you to position your child in an extended rear face position. That means you could extend rear face a preschooler. There aren't very many carseats on the market that offer that kind of rear-facing longevity, and with the American Academy of Pediatrics recommending that children rear-face as long as possible, it's a huge upside. Once you're ready to turn the seat around you can do a five-point harness up to 50 lbs. which — while not the longest harness on the market — is still a nice safety feature.
Speaking of the harness, it is one of the easiest we've ever used because you don't need to uninstall the Complete Air from your car in order to adjust the height. The carseat conveniently features a single-click latch system making the switch-out from car-to-car a breeze. It's also easy to install with a seat belt if your car does not feature a latch. It comes with a detachable cup-holder and is available in two color pathways: McKenna (black/grey) and Harvest (brown/orange).
It's hard to argue against the Complete Air. It combines the cutting-edge safety features employed by pricier brands, but at a price point that you can afford. What's more, when you consider the years of extended rear-facing/extended harnessing use it offers, it becomes an even more solid pick. I'd recommend the Complete Air to any new or expectant mom, especially for inclusion on their baby registry.
— Missy