Rob Lowe Dishes on Emmy Night With His Boys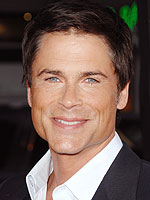 Scott Kirkland/INF
The 61st Annual Emmy Awards were a family affair last month for actor Rob Lowe and his two sons Matthew Edward, 16, and John Owen, 13. "My guys…I even got them to wear ties [to the ceremony], that's the amazing thing," the 45-year-old actor noted during a recent appearance on The Ellen DeGeneres Show.
The boys "were happy" to attend alongside their dad, who noted that "they've never done anything like that" before because he and wife Sheryl Berkoff "kept them away [from Hollywood] until they were old enough to sort of get it." The evening exceeded their every expectation, Rob adds.
"They're big thing was, they were just thrilled that we had better seats than the guys from Entourage. I was like, 'Yeah, Daddy's still got his fastball.' They're my best buds for sure."
One thing father and sons won't be doing together anytime soon? Rob's new favorite pastime — heliskiing. Just as it sounds, heliskiiers take a helicopter to a remote mountaintop, where they are dropped to ski down without the aid of a trail. "It's doing something very dangerous, to do something even more dangerous," Rob explains before adding, "I have not taken the kids."
From the sound of things, that status quo will be maintained for some years to come!
"They want to go. That's a little bit of a discussion at home. [Sheryl] is like, 'Are you crazy?' I think we're going to have to wait until they are at least old enough to shovel me out."
Source: The Ellen DeGeneres Show
— Missy