Luke Bryan Says Fatherhood Is 'What Life's All About'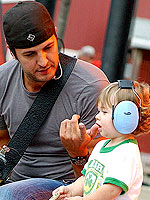 Jason L. Nelson/AdMedia
Although Luke Bryan and his wife Caroline parted ways for more than five years after he graduated from college, the 33-year-old country crooner says that when they reunited there was little doubt where that meeting would lead. "We knew the second from the first time we saw each other that we would get married, start a family and all that," he tells OK! "It was pretty cool."
The couple's dreams came true with the birth of son Thomas 'Bo' Boyer, 18 ½ months. "It's the best thing ever," Luke shares. "It makes life so fulfilling; It's what life's all about." And, like any proud first-time father, Luke can't help but dish on baby boy's latest and greatest accomplishments.
"[Bo] just learned how to blow kisses and it rocks when he does it because he smacks real loud."
Luke says that his family-of-three enjoys "riding through the country," and dreaming of the future along the way. "We try to do that once a week and go look at dream farms," he shares. "We ride out to Leipers Fork [Tennessee] and look at big horse farms. Maybe one day we'll get to have something like that."
Source: OK!
— Missy