Jennifer Garner Travels to Toronto Solo – Much To Family's Chagrin!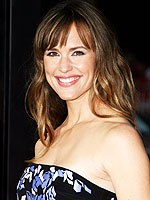 Juan Rico/Fame
As she promoted her new film The Invention of Lying at The Toronto Film Festival, Jennifer Garner did so without her two children Violet Anne, 3 ½, and Seraphina Rose Elizabeth, 9 months, in tow. The change of pace was tough for all involved. "The family acted like I was going to the moon," she shares in a new interview before adding,
"Even though [husband] Ben [Affleck] is there with the children and they will be fine, Violet was wondering, 'Where is Mom going?' We travel together all the time."
One thing the family-of-four won't be doing together anytime soon is shooting a film, with Jennifer in front of the camera and Ben directing. "He is not the world's fastest director, and I like to get in and do my work and go home and put the kids to bed," she explains. "I'm afraid there would be this moment where I would say, 'OK. You've got it. I promise you it is in the can. I've got to go home.'"
There are also long stretches away from home to contend with, which makes the prospect of returning to the small screen increasingly appealing to the 37-year-old former Alias star. Jennifer notes,
"I never say never to TV because it has been really good for me. I am not a snob about work. The great thing about TV is you can stay in one place. Eventually my kids aren't going to want to be living all over the place. Television would allow us to settle down."
The Invention of Lying is in theaters now.
Source: Chron.com
– Missy