Solange Says Co-Parenting 'Definitely Has Its Challenges'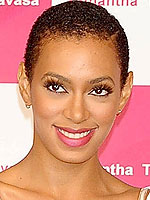 Jun Sato/WireImage
At only 23-years-old, there is no shortage of opportunities for Solange Knowles in the entertainment industry. However as mom to Daniel Julez, turning 5 this month, the singer insists her top priority has always been — and will always be — motherhood.
"A lot of people feel like their life has to stop because of the child and they have to let go of their interests. You definitely have to compromise some of them, but I've been really blessed," she reveals in the November issue of Honey magazine.
According to Solange, a mantel adorned with awards is secondary to her dedication to Julez.
"I have to say no to a lot of things because at the end of the day I know that no matter how many awards or accolades or praise or money I get, the one thing that really is a judgment of me is what kind of mother I am."
Fortunately, Solange and her ex-husband Daniel Smith are determined to co-parent their son, sharing equal custody and coordinating their schedules accordingly. "I try not to ever be away from him unless he's with his dad," she explains.
For Solange, that time includes both everyday activities as well as life on the road. "When I went to see Grace Jones, Julez was right there with me. Julez is right there with me when I go for my bike rides. And when I go on tour, he's with me," she says.
To that end, traveling the globe with his mom is something Julez never takes for granted, notes Solange. "I don't think he realized it in the beginning," she says of her celebrity status, "but the good thing is that he's humble about it." And, according to the proud mama, humble is how he will remain.
"If I ever see that he's not, he will get snapped back before he can blink his eyes."
Click below to read Solange's thoughts on how Daniel's parenting style contrasts with her own.
While Solange and Daniel work closely together to raise their son, the arrangements — and contrasting parenting philosophies — took a bit of getting used to. "It definitely has its challenges because there are some things that I'm a lot more strict about," Solange explains. "I won't let him own a video game. No TV in the bedroom — he can only watch a few hours a day. He comes back and tells me these stories about the Wii, and I have to be like, 'It's just a Wii, calm down.'"
With that said, Solange feels the different environments in each household provide Julez with a "good balance" in life.
"I feel really good that [Daniel and I are] able to do it together because there are some things that I don't understand, and as much as I try to get out there and throw the football, I always get hit in the head with it."
Source: Honey, November issue
— Anya