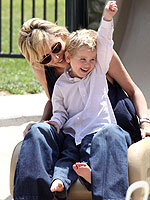 David Aguilera/FilmMagic
When Sharon Stone suggested that the 2008 Sichuan earthquake — which resulted in the deaths of tens of thousands — was "karma" for China's mistreatment of Tibet it drew understandable criticism from the world at large. The 51-year-old actress and mom-of-three acknowledges as much in a new interview, but says that her reaction was based at least in part on her own private maternal suffering.
"I had two pregnancies that I lost in the late fifth month," she reveals to Prestige magazine, "And this is so awful because I had to go have surgery when my children died."
Calling the experience "a trauma that you just cannot bear," Sharon says that her grief was only magnified by the 8.0 magnitude earthquake.
"I was in some kind of crazyville. The horrific loss of those people's children caused me tremendous grief. I was relating to this earthquake like some kind of crazy mother."
So "grief-stricken" was Sharon privately, her public actions were the manifestation of all she had lost. "I was really relating to their grief," she explains before adding,
"I had lost children myself. All of that was really heavy upon me. I was really speaking as a heartbroken mother."
Sharon is mom to sons Roan Joseph, 9, Laird Vonne, 4, and Quinn Kelly, 3.
Source: Prestige via Ireland Online
– Missy